Scissor Skills for Wizard Kids

Scissor Skills for Wizard Kids
Does your child have their favorite masterpiece hanging on the refrigerator? If they are anything like my 7-year-old, Maggie, those masterpieces are on every wall. These works of art serve as our home decor and allow her to explore color, form, and construction. One of her favorite activities is taking bits of fabric from my Grip Wizard scrap bin and designing clothes for her dolls. (Painter's Tape is great for this!) I love seeing her imagination come to life, and her dolls are ready for the couture runway, if you ask me. Maggie's scissor skills have come a long way, but kindergarten was a bit of a struggle for her. Too many fingers in the scissor handles, not enough control, and remembering to use your helping hand are obstacles that many early learners face when learning to use scissors.

When we teach scissor skills to children, the end goal is to have them cut on the line with ease and accuracy. Mastery of this skill involves bi-lateral (both hands) and visuomotor coordination (controlled hand movement guided by vision), in addition to good posture and core stability. You guessed it, it's Fine Motor Magic time!
7 Tips to Keep Your Wizard Kid's Cutting Skills Sharp!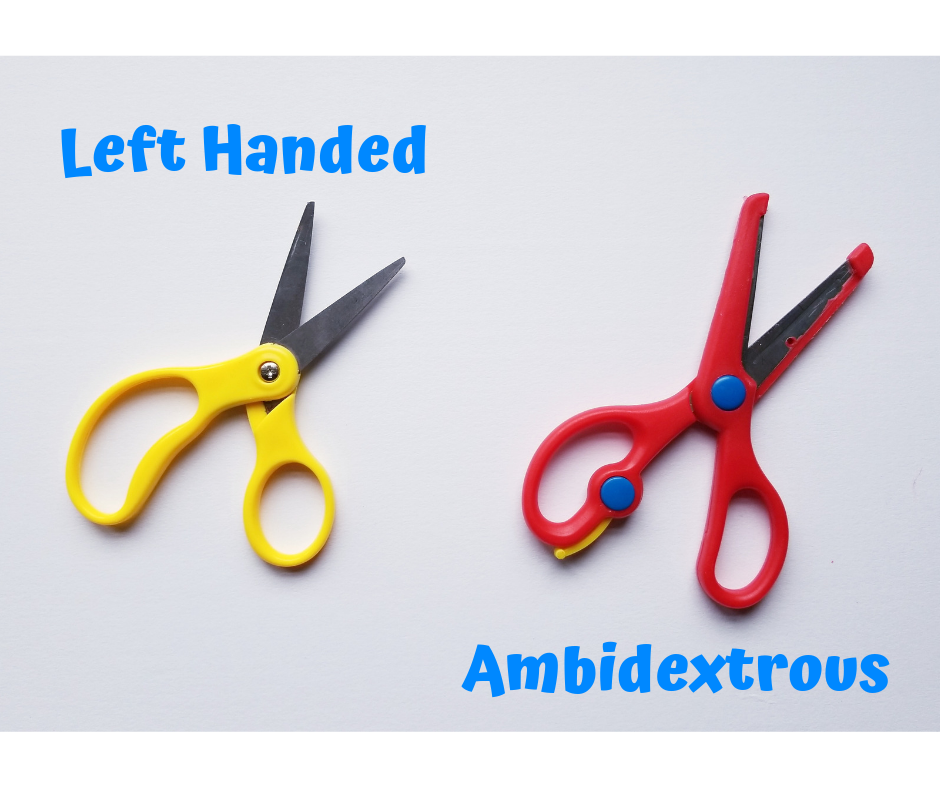 Not All Scissors Are Created Equally
After learning scissor skill basics in Kindergarten, Maggie's main struggle was cutting on the line. This frustrated her to no end because she was able to cut out the shapes pretty well, but she was always
1/4 inch outside of that dotted line. Her teacher sent home a packet of practice sheets, and as she was cutting out animal squares, I realized that she couldn't see the line! Maggie is left-handed and the blade of the "ambidextrous" kid scissors was covering up her cutting path.
I immediately bought a pair of left-handed scissors for home and school, and that made all the difference. If your kid wizard is a lefty, set them up for success with scissors designed for their needs.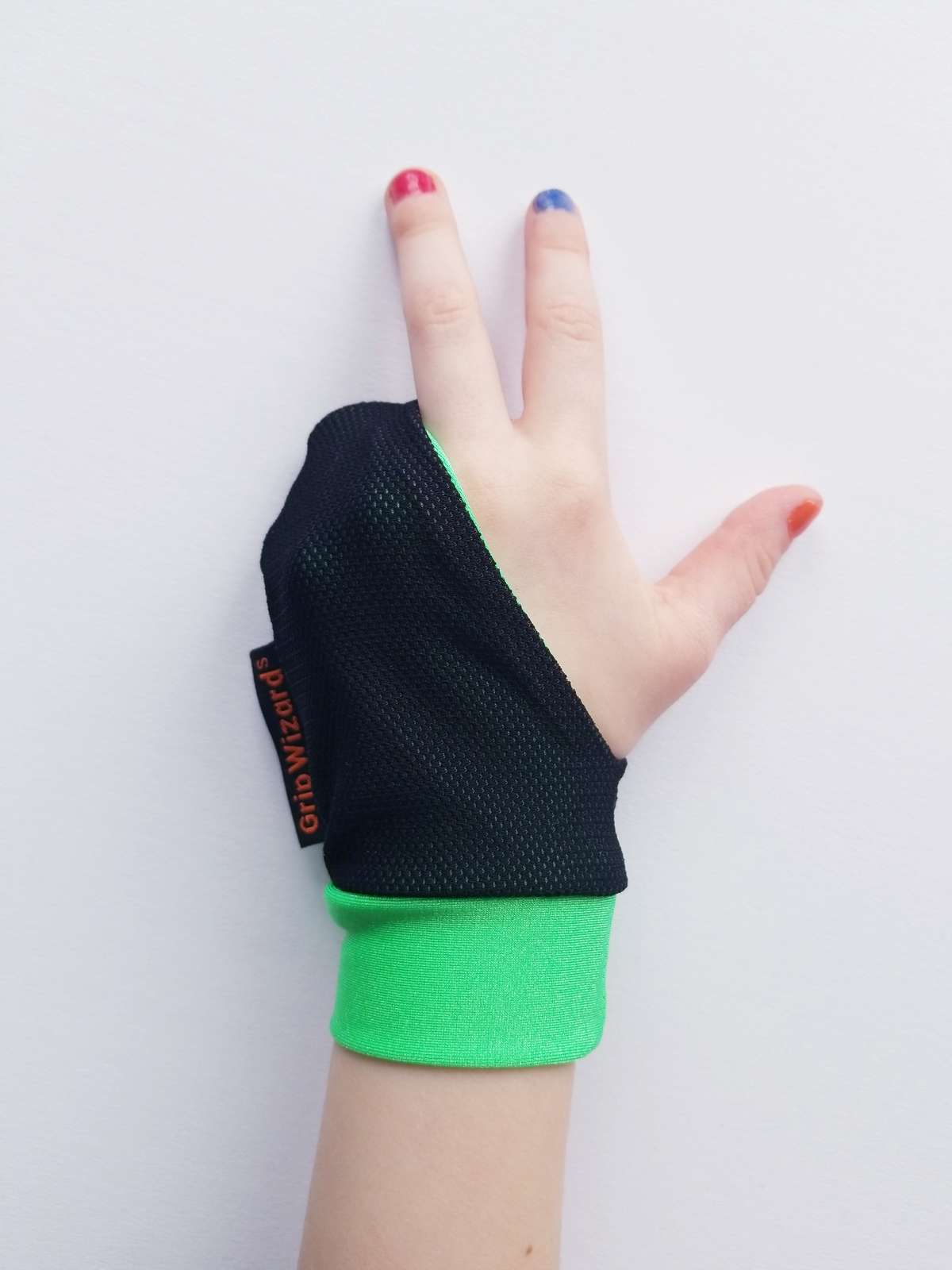 Fine Motor Magic Fingers
Grip Wizard, The Fine Motor Magic Glove offers consistent and sensory friendly support during fine motor activities. The Fine Motor Magic fingers (thumb, pointer, middle) manipulate objects to complete the task and by creating an anchor with the pinky and ring fingers gently tucked to the palm, the fine motor fingers are better able to perform those tasks.
Check out these easy prompts to help your wizard kid remember best cutting practices and
Create Fine Motor Magic!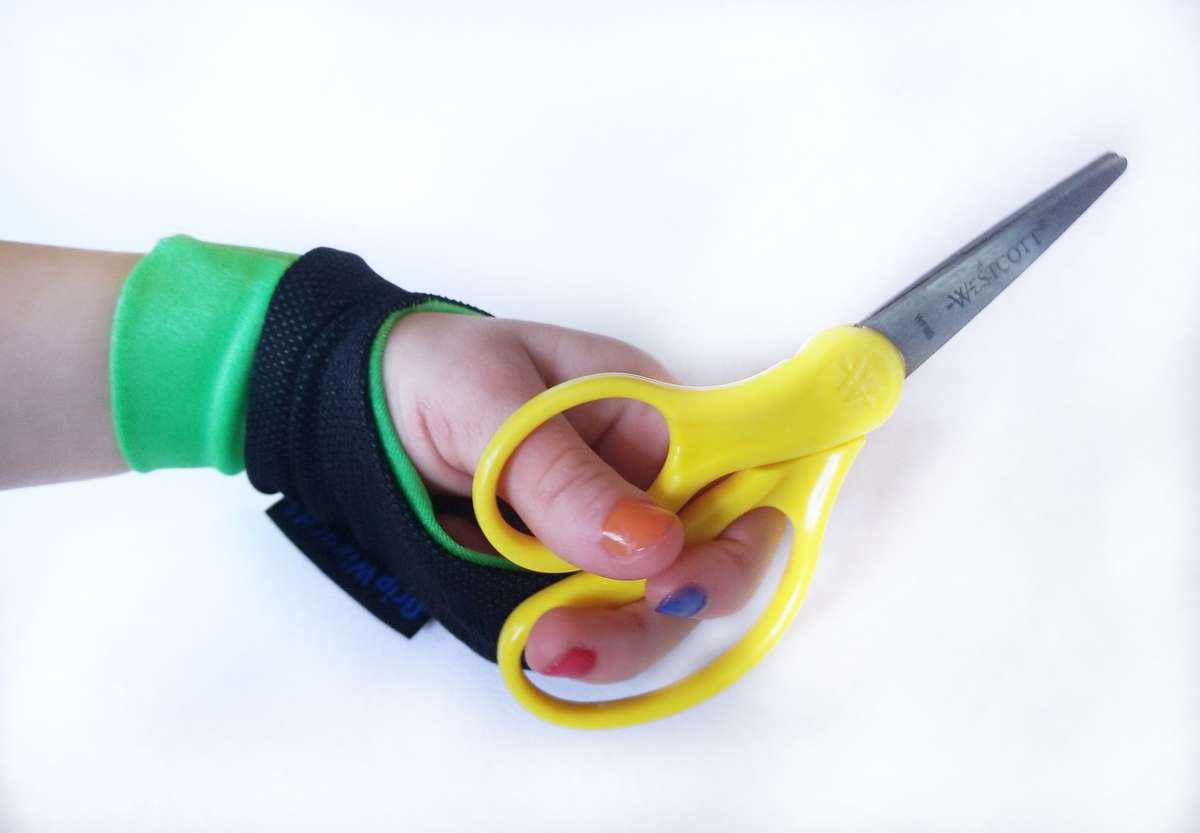 Magic Thumb Up!
To master the scissor grip, encourage your child to use only their Fine Motor Magic fingers in the scissor handles. Remind them the keep their Magic Thumb pointing Up so that they are using their scissors safely and with the most control. For smaller handled scissors there is an alternate grip with the pointer finger sitting on the outside of the bottom handle that can be used as well.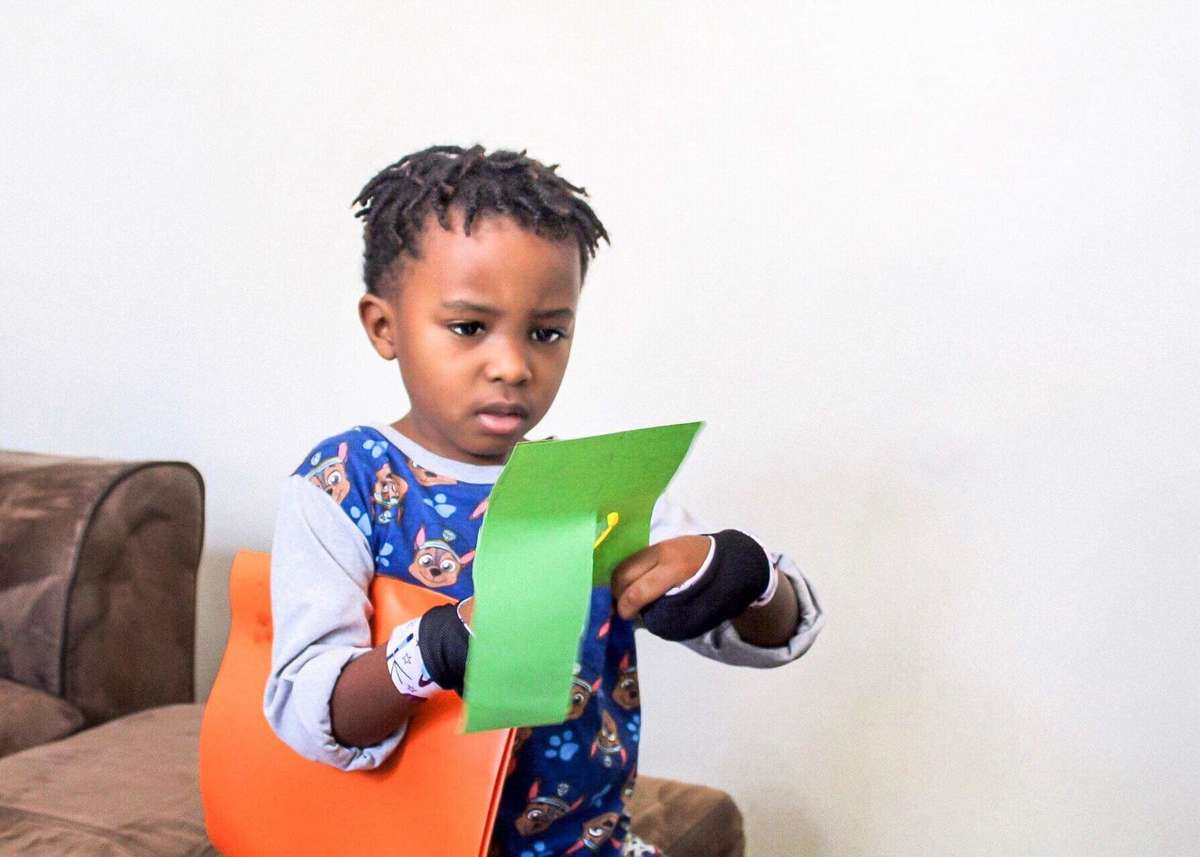 Elbows In
When your child begins using scissors, their magic arm is going to get a workout! Most of their movements will come from their shoulder, elbows will fly and they will chase the cutting line around the paper which can lead to scary (unsafe) scissors, poor control and lots of frustration.
To reduce shoulder movement and scary scissors, give your wizard kid a folder or piece of paper to tuck under their magic arm to remind them to keep their Elbows In and watch how quickly their skills improve!!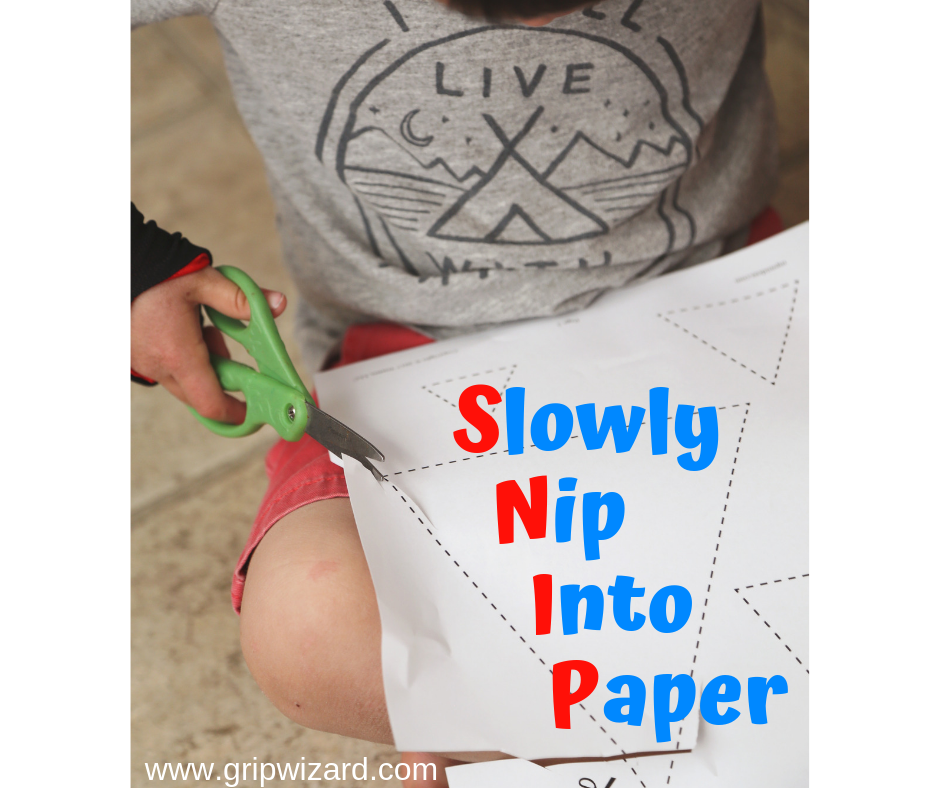 Grip Wizard S.N.I.P
Scissors can be a tricky fine motor skill for wizard kids to master. They tend to want to open the scissors as far as they will go, which pushes the paper away from them and decreases their ability to make more intricate cuts, like zigzags and curves.

By teaching them to S.N.I.P when practicing cutting skills, students can develop a more detailed approach to cutting on the lines.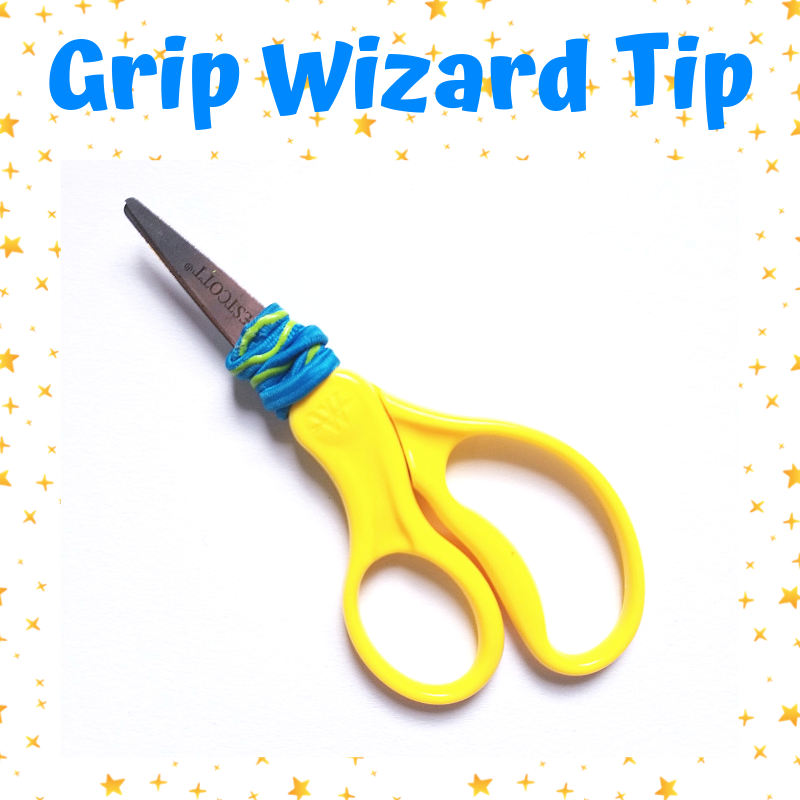 Encourage your wizard kid to Nip into the paper, by wrapping a rubber band or ponytail holder tightly around the blades of the scissors. This simple trick will help to keep the blades from opening all the way and builds hand strength through resistance.
The Helping Hand Cuts Away

At first, the Helping Hand will act as an immobile paper stabilizer as their scissor hand chases the cutting line. This can lead to scary (unsafe) scissors and a lot of frustration.
Remind your wizard kid that their Helping Hand is actually there to turn the paper so that they are always following the cutting line away (Cut Away) from their body. Encouraging them to utilize their Helping Hand will improve their accuracy and keep the scissor blades away from clothing and fingers.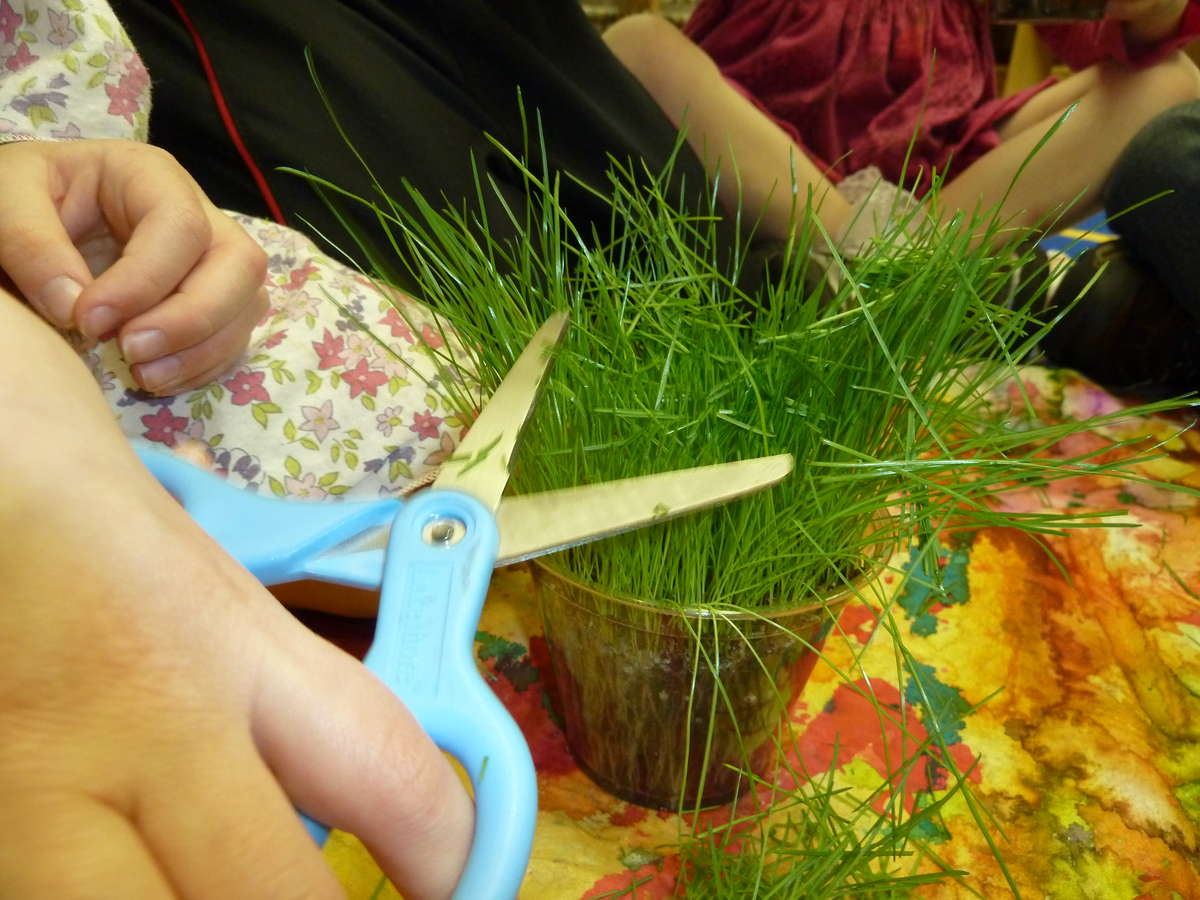 Scissors Aren't Just For Cutting Paper
A multi-sensory approach to scissor skill development is a great way for little hands to learn about texture and force and can be easily combined with other learning objectives. Offering a variety of mediums to cut such as grass, thin fabric, textured paper, and even slime are exciting ways to encourage cutting exploration.
Developing these skills can take a lot of time and even more patience, but if you follow these simple tips and add a dash of creativity, your wizard kid will be Creating Fine Motor Magic in no time!
Click the button below to learn more about fine motor skills
and the magic of Grip Wizard!
Learn More

---
← Older Post Newer Post →
---